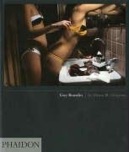 Author:
Alison M. Gingeras
Publisher:
Phaidon Press
Genre:
Collections, Catalogues & Exhibitions
Release:
My Rating:
0
Summary:
One of the Greatest Innovators of Fashion Photography; New Book Provides the Perfect Introduction To a Legendary Career.
Guy Bourdin (1928-1991) was one of the world's greatest innovators of fashion photography. While his contemporaries Richard Avedon and Helmut Newton achieved great notoriety and fame, Bourdin remains relatively unknown to the general public. But within the worlds of fashion and photography, he is a legend. Known for his difficult personality and groundbreaking images that mixed glamour, seduction and surrealism, the impact of Bourdin's work on both commercial and fine art photography continues to resonate today.
GUY BOURDIN, by Guggenheim curator Alison M. Gingeras, provides an illustrated overview of Bourdin's entire career featuring both iconic images, lesser-known photos and an introductory essay that provides a fresh perspective on his life and work, 15 years after his death.
Guy Bourdin worked for French Vogue for over 30 years where he demanded and was allowed full editorial control of his work. During the 1970's and 1980's, his photographs also filled the pages of international fashion magazines in campaigns for Charles Jourdan, Bloomingdales, Versace, Chanel and Dior. Bourdin's approach to advertising campaigns reflected a distinct change in this period by rejecting the `product shot' in favor of atmospheric, often surreal tableaux and suggestions of narrative. Bourdin was not alone in demystifying the object, but he was the most radical in his approach.
Gingeras' accessible introduction looks back on Bourdin's career and places him both in the context of his time and within the history of photography. She reveals that it's no accident that he is not a household name today because "during his lifetime, Bourdin refused to exhibit or sell his fashion photographs as autonomous prints...turning down offers to publish monographic studies of his work." The only "book" he ever made was a lingerie catalogue for Bloomingdales in 1976. By the time he died Bourdin succeeded in guaranteeing the anonymity he always wanted. But now, years later, his influence reigns on. In a recent The New York Times article, fashion writer Tim Blanks said, "Bourdin makes more sense now than he did 20 years ago... (he) had a scarily acute understanding of the heart of darkness that pulsates under society's glossy exterior."
There are numerous previously unpublished photos in Phaidon's GUY BOURDIN, in particular early works that were discovered in the Bourdin personal archive. The book succeeds in filling out the formative years of Bourdin's oeuvre as well as celebrating his most iconic images.
Guy Bourdin's fashion shoots were mysterious, hypnotic, surreal, exposing the true and unnerving nature of desire. He showed that, within the context of fashion, it is rarely the product that compels us. It is the image - carefully staged narrative of sexual fantasy, the quest for the unattainable with a suggestion of danger - that stimulates consumer desire.