Street Smarts is a book of 100 black and white street photographs taken by me in London and Paris during the years 1971 through 1977. Click here for independent reviews.
1,
2,
3
I emigrated from my native London to the United States in 1977, and these photographs from London and Paris represent a time which, while only a few years ago, is already ancient history in the context of the sea changes in culture and sorroundings which have taken place since.
The photographs are presented one per page, with background information in a separate Appendix. All were taken on my Leica, mostly with a 35mm lens, on Kodak TriX film. I finally sold that camera in 2006 after 35 happy years of partnership.
The book is printed on 8.5" x 11" stock and is available for $19.95 plus shipping (US or International) from
The Publisher
. An interview with me appears
here
.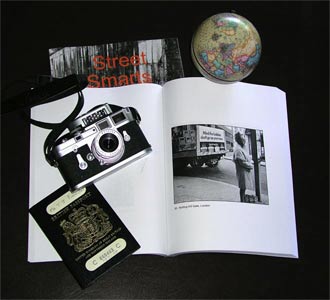 For my commentary click on the right arrow: